Discussion Starter
·
#1
·
Yamaha has most of what they need to make it happen and we could expect it soon!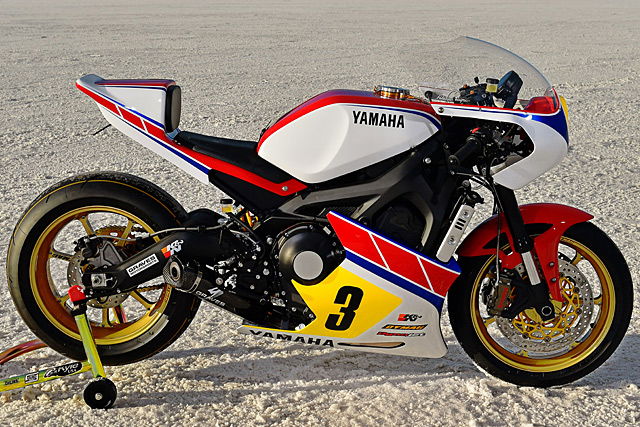 With the news that Yamaha is finally turning the MT-07 into a sportsbike, Visordown looks at the viability of an MT-09-derived R9
www.visordown.com
"The Yamaha R9 already exists – sort of!
In the same way that we saw a glimpse of the R7 before it was even announced – thanks to AP Moto Arts CP2-powered Supertwin race bike – JPD Cycles have shared images of its own CP3 powered sports bike. Unlike the AP Moto Arts bike (that only used the MT-07's engine), the JPD Cycles special utilises pretty much the entire Yamaha chassis. Oddly enough, the bike they started with was not an MT-09, but instead its retro-inspired sibling the XSR-900 – why that was done, we don't know. It could have for cost reasons more than technical needs.

How viable is the Yamaha R9?
For a motorcycle manufacturer to succeed in these ultra-competitive times, it needs a joined-up range of bikes to sell. Yamaha has some of the best examples of this. On the retro side, we have the newly announced XSR125, the XSR700 and the XSR900. Likewise, in the hyper naked range, we have MT-125, MT-03, MT-07, MT-09, and MT-10. The only real hole in Yamaha's assault on the market is in its sports bike offering.

Yamaha could in this situation roll out a new supersports machine to the tried and tested race replica ethos, but as we've seen in recent years, that doesn't really work in practice. With high prices required for screaming in-line four-cylinder machines, the gap between the race replica supersports bikes and their 1,000cc counterparts was simply too small.

An R9 based on the already-in-production MT-09 would be a much more viable option. In fact, if we take the newly announced R7 and its expected £8,000 price tag as an example, an R9 could come in between £10 or £11k."